If you're reading this, the new fund allocation for GInvest should now be available
Disclaimer: All the opinions written in this post are my personal opinions. I am not affiliated in any way with GCash nor do these opinions reflect any of GCash's opinions.
Continuing my investment writeups after MP2, Flint, and Variable Universal Life (VUL), I am here to give another option for you to consider, Mutual Funds. This term is usually thrown all over the place but only a few know the real concept behind it.
Just to recap, it's best practice that you've already built up your emergency funds and availed of life insurance before diving into the world of investments.
If you're already familiar with VUL, you'd know that it's a 2-in-1 product that offers both insurance and investments. If we remove the insurance part of VUL and just leave only the investment part where you choose your fund allocation based on your risk appetite and time horizon, we're left with Mutual Funds.
Mutual Fund
Mutual Fund (MF) is a pool of money collected from many investors to invest in securities like stocks, bonds, etc. Mutual funds are operated by professional fund managers, whose primary goal is to allocate the funds in an attempt to produce capital gains or income.
The rule of thumb in investments is that the higher the risk, the higher the possible returns, and vice versa. If somebody offers you an investment opportunity that guarantees at least 5 percent interest per month without you doing anything, that's probably a scam. Remember to always practice due diligence before investing your hard-earned money as nobody cares more about your money than yourself.
Mutual Fund (MF) is similar to Unit Investment Trust Fund (UITF). MFs are offered by investment companies while UITFs are offered by banks and trust companies. The fund value for MF/UITF changes every day based on the underlying fund allocation.
There are also charges involved when it comes to availing MF/UITF since we're using the services of the fund managers. You can read more on MF and UITF here.
Fund Allocations
Here are the common fund allocations when you avail MF/UITF:
Bond (debt) fund – a conservative fund since it is invested in fixed income instruments suchs as debts. There are 2 types of bonds. Government bonds are debts for the government while Corporate bonds are debts for private companies.
Equity fund – invested in the stock market where you can become a part-owner of a company. Instead of you picking individual stocks, the fund managers will choose stocks that they think will grow in the long term, which means it's actively managed. Since stocks are essentially private companies, equity funds are high risk.
Balanced fund – a combination of Bond and Equity fund, but not necessarily 50% each. It's up to the fund manager to allocate to wherever they see fit. When choosing this fund allocation in VUL, another option is that you can choose your own percentage for both Bond and Equity funds.
Index fund – passively managed fund since it will just follow the performance of a certain market or index. In the Philippines, there's just one index which is the Philippine Stock Exchange Index (PSEi) which includes the top 30 stocks. Index funds are also high risk similar to Equity funds.
Money Market fund – consists of risk-free, short-term debt instruments, mostly government treasury bills. This is a safe place to park your money, including your emergency funds as it's quite liquid. This is the most conservative among all of the fund allocations mentioned.
Now that you know how MF and UITF works, the question now is, where can you invest?
How to start
As a Sun Life financial advisor, you can avail of Sun Life MF, but that requires a different license which I don't have yet. But, I am planning to be licensed soon. Availing MF from a financial advisor means that there's someone who can monitor your fund performance with you. If you're interested to avail MF of Sunlife, just let me know so I can refer you to my manager.
Another option is straight from the GCash app, which is what the blog is all about. You can register here if you don't have Gcash yet, GCash Invest Money (GInvest) is an example of UITF since GCash partnered with ATR Asset Management (ATRAM). GInvest only requires you to be at least 18 years old and have a valid government ID. This means even students can now save and invest straight from the GCash app through GSave and GInvest! I will also write a blog in the future about other features of GCash.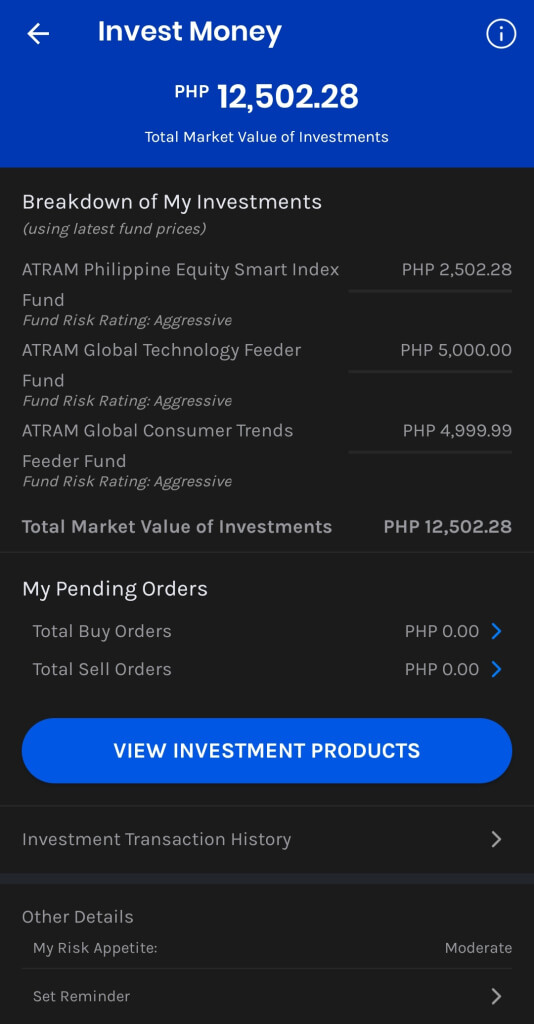 To navigate to GInvest, just select the "Invest Money" option in the dashboard. Note that invest money is not included in the default dashboard, that's why you need to click the "Show More". You just need to answer a few questions so that you'll know what is your risk appetite (Conservative, Moderate, Aggressive). You can now check the Investment Products to know what fits you. Minimum investment starts from ₱50 and ₱1000 for local and global markets respectively. Check this demo on how to navigate GInvest.
GInvest funds
Now, you should be as excited as I am to invest and the next question is where should you invest? Just want to reiterate that you should take your time studying the different funds before investing. Don't invest in something that you don't know, no matter how profitable it may be.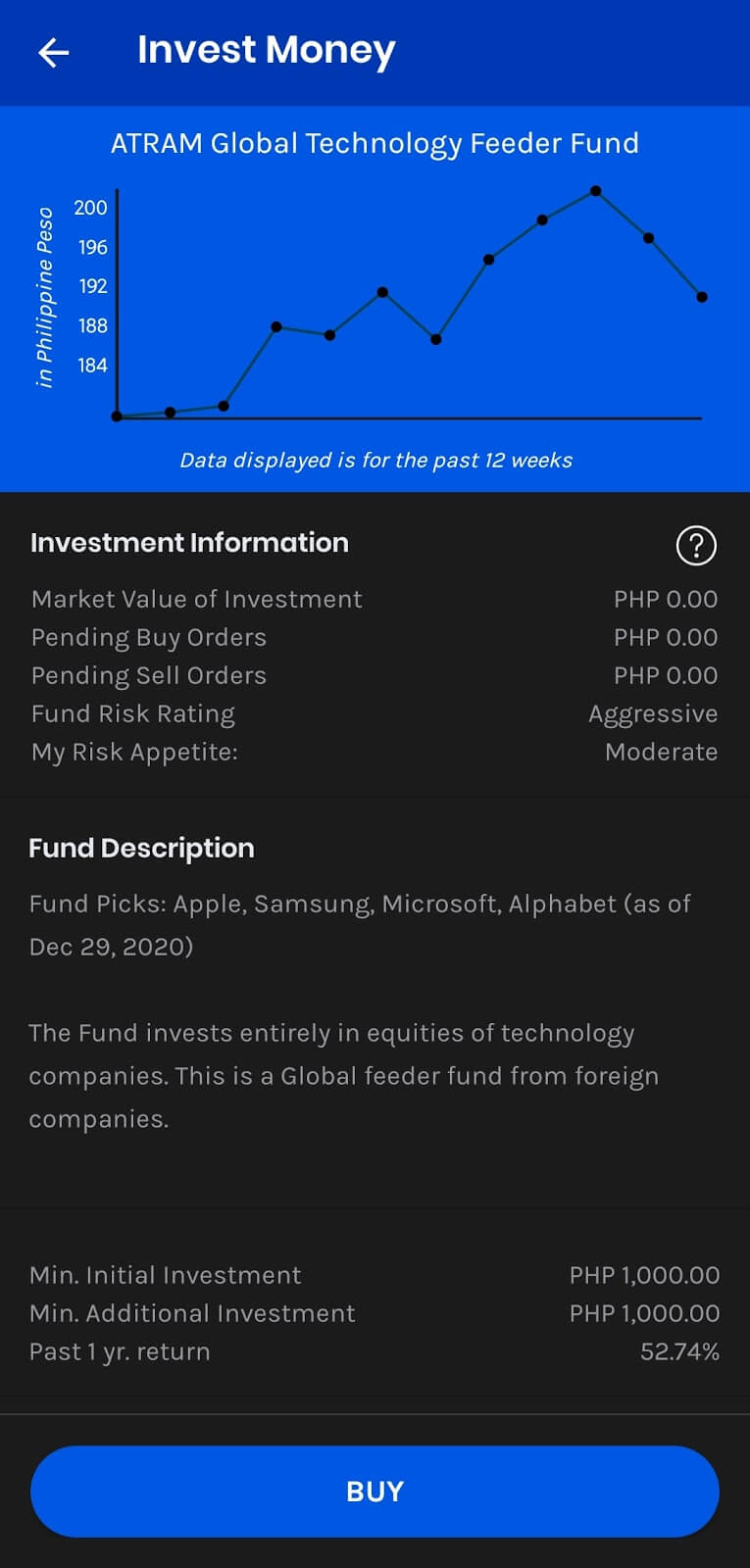 Before the recent update which offered different products, only the ATRAM Peso Money Market Fund was available. I invested here before, but it is so conservative that even when I had put in ₱20,000 on it, it only grew ₱100 pesos even after months. The returns in GSave are way better than this, but since I wanted to invest, I transferred my funds to Seedbox. In Seedbox, at least there's a higher risk fund allocation so my ₱20,000 turned a ₱2,000 profit which is way better.
What I'm very excited about is to share with you that the funds that got me the big returns are now available directly in GInvest, which means you don't need to open a Seedbox account anymore. But, what if you already have a Seedbox account, will your existing account be linked to GInvest? Even though they are both partners by ATRAM, they are not linked together so you can also open it in GInvest. Opening a Seedbox account is still recommended if your fund allocation is not in GInvest. You can check how to navigate Seedbox here.
The funds that gave me the big returns are the ATRAM Global Consumer Trends Feeder Fund and the ATRAM Global Technology Feeder Fund which are high risk for aggressive investors. Note that you can invest in the products that are higher than your risk appetite, there will just be a warning before you can proceed. These invest in the global market where you would have exposure to stocks of Facebook, Amazon, Netflix, Nike,  etc. without opening a dollar account for as low as ₱1000. But don't just copy what works for me as I'm an aggressive investor and I'm in it for the long term, which means that I don't need the money for at least 5 years. UPDATE: There are new funds from BPI, one is ALFM Global Multi-Asset Income Fund, a US dollar-denominated feeder fund which you can invest for as low as ₱1000, it's for long term capital growth and it gives monthly dividends straight to your Gcash account. You can check more details here.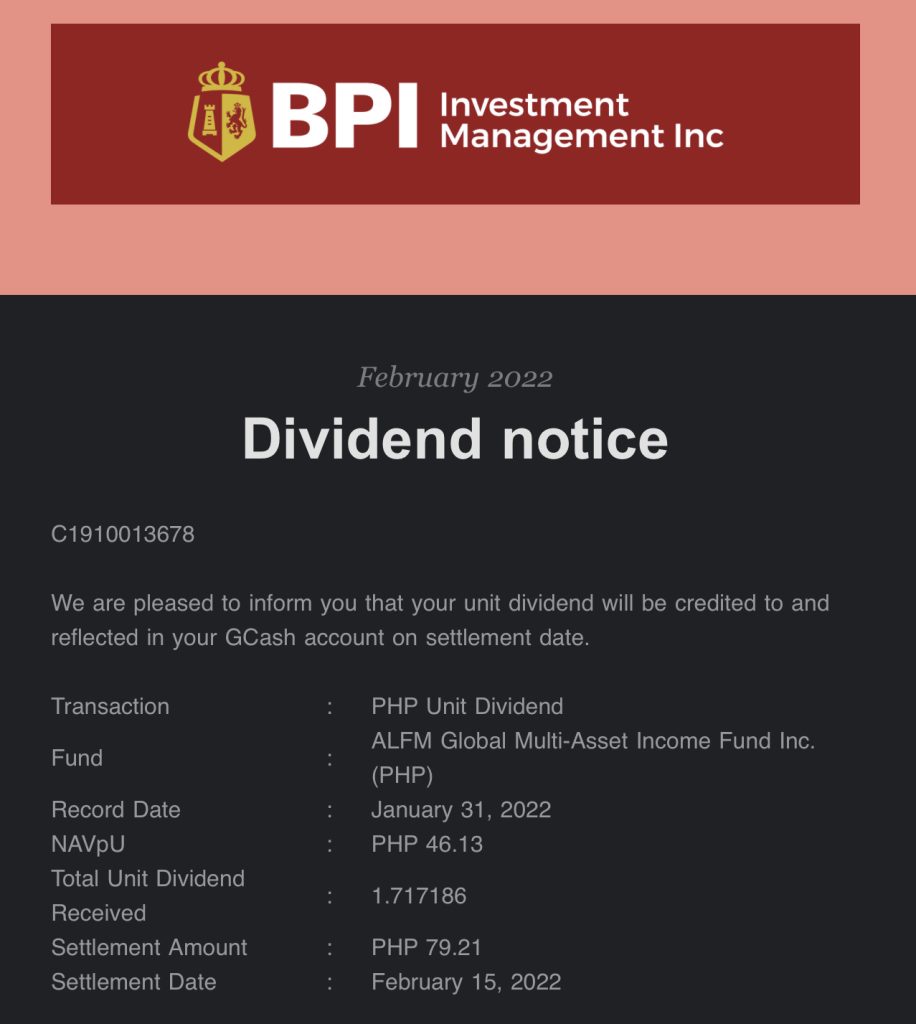 Next up is the ATRAM Philippine Equity Smart Index Fund. What makes this equity index fund smart? Because it doesn't just blindly copy the Philippine Index's performance. It offers the best of both worlds as it's both an actively and passively managed fund, which means it offers lower risk, but it offers higher returns compared to other equity and index funds. The minimum investment for this is just ₱50 pesos. You can check more details here.
If you know which fund to invest in, choose your fund, "Buy" and input how much you're going to invest, then just follow the instructions to proceed. Once done, there should be an SMS/email for confirmation then you just need to wait for your funds to be processed before you can see your funds on your dashboard. Processing time before your funds are invested depends on the fund (3 business days for local, 4 business days for global). The Net Asset Value per Unit (NAVPU) used is during the time when you bought the funds, not the time when it is successfully invested.
Once your investment is available on the dashboard, note that the NAVPU will change every business day based on your chosen funds. It's up to you if you will check the fund value everyday, I don't recommend this especially if you're a long term investor. Selling your investment is straightforward, you just click "Sell" instead of "Buy". Processing time before your funds go back to your GCash wallet depends on the fund (3 or 5 business days for local, 7 business days for global).
Final thoughts
Now that you know how to invest in GInvest, another thing to note is that there are 3 successful principles when it comes to investing: Time, consistency, and compounding. You can check this video for more details.
Investing is not timing the market, it's about the time in the market. That's why I'm very excited about this as students at least 18 yrs old can now invest straight in GCash as it's so convenient.
Consistency means that investing is never a one-time thing. It's not how much you have, but building the habit of putting in as much money that you don't need now so you can reap the benefits in the future.
Compounding means that your interest is also earning interest, this is commonly not practiced as people withdraw their earnings when they see their investments go up in value. This can be considered as the 8th wonder of the world if used properly.
If you combine and maximize all the 3 principles, along with practicing delayed gratification, you will reach financial freedom one day. Maximize your prime years to earn, save, and invest as much as you can and you'll thank yourself in the future.
Thanks for reading through to the end, I hope you learned a lot. I'd appreciate it if you can share this great news to your friends and family. You can join the GInvest community as it's a specific FB group for GInvest. You can also connect with me through this link where you can see my other blog posts, the FB group and FB page that I created for additional learnings. You can also set up your free financial planning session with me so we can plan for your future.
"You always reap what you sow; there is no shortcut."

Stephen R. Covey