As we all know, the popularity of digital wallets such as GCash and Paymaya has gone through the roof with the pandemic to minimize transmission of the virus. Most of us might already know that we can use GCash to transfer to other GCash users, but what are the other features that are not that well known? You can download the app if you don't have it yet.
Main Features:
GCash is available to all networks. There is a misconception that GCash is only for Globe networks as it's powered by Globe. You can also have multiple GCash accounts if you have multiple mobile numbers.
Cash in options – You can cash in thorugh banks and Over the Counter (OTC). The free cash in for OTC is up to P8,000 per month, but 7-Eleven charged a 1% convenience fee starting May 17. Some banks (ex: BDO) have charges when cashing in to Gcash. The workaround for both 7-Eleven and banks that have charge is to cash in through CIMB, which is real time and has no charge, then you can transfer to GSave (see below), which you will then withdraw to GCash. It is quite tedious but it's worth it to save ₱25 or certain percent per transaction. The recommended way of cashing in is through BPI and Unionbank, which you can both open your first account online. You just need to be at least 18 yrs old and have a valid government ID. Note that there's an initial deposit needed and a maintaining average daily balance to not incur charges.
Buy load – You can buy load for all networks, so there is no need to buy prepaid load cards anymore. Note that there is no more load cashback.
Send money – Aside from transferring money to other GCash users using their mobile number, there's an update in which you can generate your own QR code. Say no more to sending to the wrong people and it's much more secure now as you don't need to give your mobile number anymore.
Pay QR – Majority of institutions offer GCash and Paymaya as a payment method. You can either pay from your balance or GCredit (see below).
Paying bills – Almost all bills such as credit cards, telcos, etc. can be paid through GCash. Just take note of the transaction fees for some bills. Majority of investments such as Pag-IBIG MP2, Flint use GCash so it's very convenient. Processing time usually takes 2 to 3 business days. You can add your billers to your favorites so that it will be more convenient next time. Also, it has a reminder feature on when you should pay.
GSave/CIMB – The savings straight from the GCash app, which offers at least 2.6% interest per annum. This is perfect for storing emergency funds. It is recommended to link your GSave account to the CIMB app so you can transfer to other banks for free. Check my blog for more details. Another digital bank to consider is Tonik as it offers higher interest rates up to 4.5% per annum. It also has up to 6% interest rate per annum for Time Deposit.
Bank Transfer – Personally, I don't recommend this anymore since there's a ₱15 charge per transaction. What I'd rather recommend is to link your GSave account to the CIMB app so you can transfer to other banks for free. The limitation right now is that CIMB uses Pesonet which means that the transfer is not real time. There will be an update in CIMB that it will use Instapay for real time transfer, so only use GCash transfer if you want real time transfers.
Cash out – You can cash out by using the GCash mastercard worth ₱215. You just link the mastercard to your GCash account and you can use it to pay and cash out in ATMs. I didn't get this personally since I just transferred my money to my traditional bank using CIMB if I ever want to withdraw.
Other Features:
GInsure – Insure yourself for as low as ₱39. This should not replace your personal insurance protection, but should just complement them. I personally availed the Dengue with free Covid-19 insurance for just less than ₱1000 per year. You can read my blog on insurance for more details. Feel free to message me if you have any concerns on life insurance as I'm a Sun Life financial advisor.
GInvest – You can invest for as low as ₱50 for local funds and ₱1000 for global funds straight from the GCash app as long as you're fully verified. Check my blog for more details.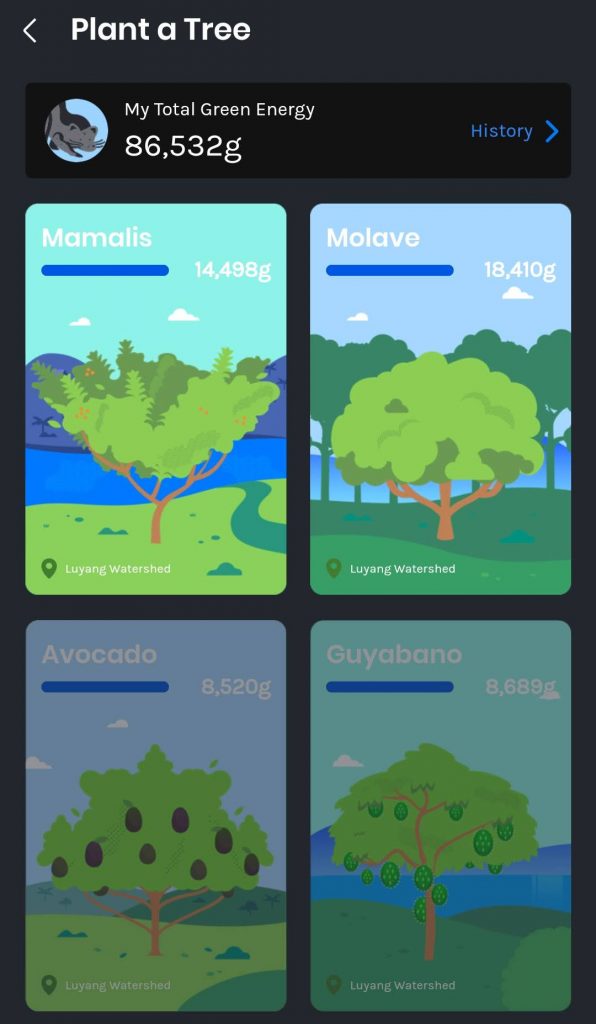 GForest – You can help the environment. You can accumulate energy by walking and using the features of GCash with a minimum of ₱100 to use for planting trees. You can invite your friends/family using their mobile number, then you can get energy from them if they don't get them before you do. I've already planted 15 trees as of this writing.
GCredit – This acts like a personal loan. Using services frequently and transacting with higher amounts will lead to a higher GScore, which would lead access to GCredit and higher credit limits. Use this for emergency purposes and pay back as soon as you can as they will pro rate the interest only to the period that you used the credit line. For example, if you paid in full within 5 days, the charge would be 5 days divided by 30 days worth of interest.
GLife – You can buy food, groceries, gadgets etc. all within the GCash app. Let's say you want to buy something in Lazada, you don't need to download Lazada app anymore, you can conveniently buy the items through the GCash Lazada mini-app and pay for them using your GCash wallet.
Final thoughts
Let us all be vigilant as scammers are improving nowadays. Never share your OTP (One Time Password) and MPIN (Mobile Personal Identification Number) to anyone as they are security measures. I know someone who received a verification email from "GCash" where the email really looks legitimate, but he didn't check the email address of the sender which ended up being just a random email, he then gave his OTP and MPIN and he was charged ₱10,000 to pay bills. Even if he reports it to GCash, it will not be credited back as it was his mistake. I just told him that he should treat this as an experience and pay the amount ASAP as GCredit offers daily interest. I'll be writing a blog on how to spot scams in the future.
What if you lost your phone/sim? How do you transfer your GCash account as GCash is linked to your mobile number? You can go to your service provider and report your lost sim and have a new sim with the same number. 
For more features of Gcash, you can check my friend's video here. Check out the official Gcash FB Group for more updates. 
Do join the Financial Literacy FB group that I created for additional learnings. You can also check my FB Page and other blog posts here.